It's been a year of transitions in higher education. As 2022 comes to a close, we run through the most popular blog articles that resonated with the higher education community this year.
Here's a roundup of the blog articles of the past 12 months, documenting the key concerns, emerging trends, and topics of interest that were the most relevant to marketers and other professionals in higher education.
1. Good to be back: some of the best higher education conferences in 2022
Universities and colleges have been exceptionally creative in adapting to challenges through the pandemic.
Our blog article published in January summarized some of the most eagerly awaited in-person and hybrid conferences of 2022, including well-established favorites and some newer ones. 2022 was a good time to regroup together to share experiences, knowledge, and innovation at (mostly) in-person conferences.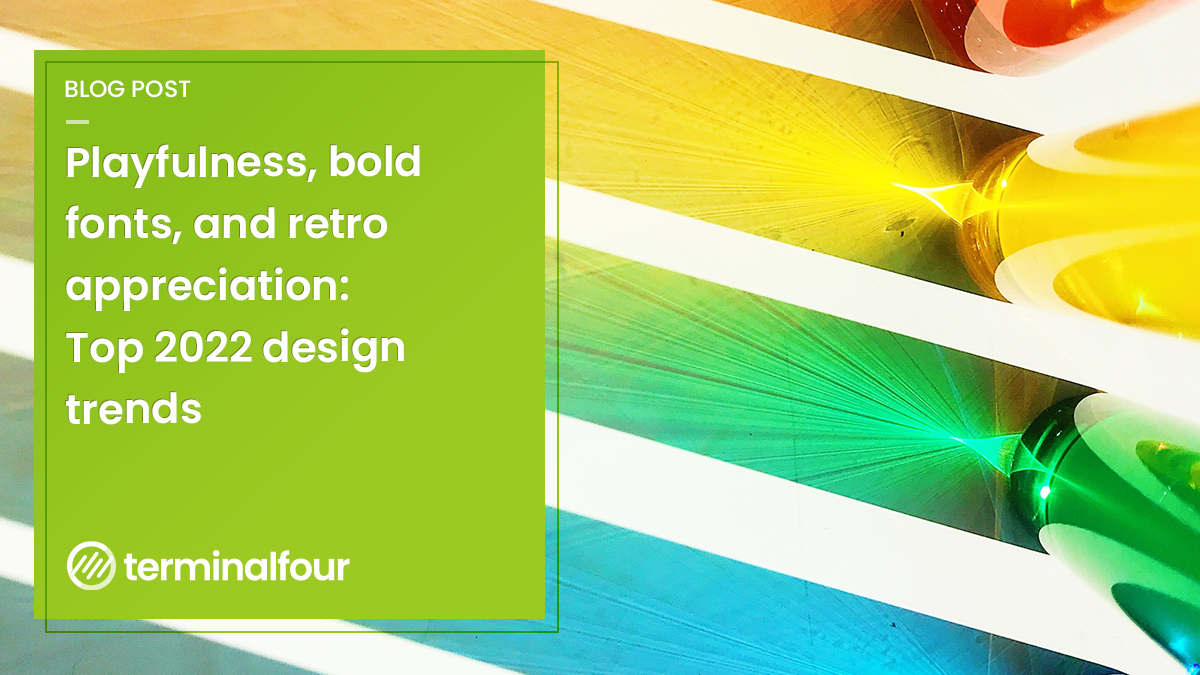 This design-focused article uncovered the trends that were making waves in 2022 as web design entered a new era of playfulness and retro appreciation.
Striking, daring, and playful can all sum up web design in 2022 as the industry continues to experience something of a renaissance.
Shifting from minimalist, image-led designs to bold typography, forward-thinking visual effects, and retro themes, web design is taking a bold new turn and becoming more and more of an art form with horizontal scrolling, scrolly-telling, and a nod to nostalgia.
The "metaverse" landed with a thud in 2022. But what is it, exactly, and why should universities and colleges care? We explored how the metaverse can be used in higher education, with examples from some institutions already getting a head start in this new space.
The pandemic impacted universities and students in myriad ways—and we're still experiencing the shifts it caused. When it comes to student numbers, some contrasting pictures emerged from both sides of the Atlantic.
Early in the year, US college enrollment had fallen for the second year running, while new student numbers in the UK were on the up. We delved into the potential factors behind the disparity on either side of the pond and looked to the future.
More insights on this topic to come in 2023!
5. Are you ready for WCAG 2.2? What you need to know about accessibility in 2022
Earlier this year, we awaited WCAG 2.2 guidelines that will soon be published in early 2023. In this article, we highlighted what you need to know about the upcoming changes to accessibility standards for higher education next year.
6. The University of Stirling takes its marketing to new heights with indoor drone
It's always inspiring to see what other universities and colleges are creating. We've seen how drone footage can be used to great effect to showcase the campus landscape. But what about drone footage inside university buildings?
This article shared the University of Stirling's drone-captured video that they used to create a unique view behind the scenes of their campus.
7. Everything you need to know about Mastodon for higher education
With Twitter in turmoil, we recently took a look Mastodon and what it might bring to the social media table and whether it's a viable alternative to Twitter.
And, perhaps, its surge in popularity is also indicative of the wider shift we've seen of late towards more transparent, authentic, and uplifting content. Read on to discover more about this shifting social media landscape.
8. Ten university news pages to inspire your next website redesign
In this popular article, we looked at 10 great examples of sites that have found a way to surface great content and take their news to the next level.
The news section is typically the most dynamically changing content on a university website. But with so much dynamic content to work with, university newsrooms can quickly become disorganized.
See how others organized these essential pages.
9. Top five university TikTok strategies to engage and recruit students
Creativity is thriving on TikTok, and institutions are getting in on the act with more original and authentic content than ever before.
Higher education can no longer ignore the surging popularity and reach of TikTok if they want to keep their social media strategies current and on track. We look at 5 ways universities are using TikTok to their advantage.
10. What is the future of the university prospectus and course catalog?
This year, we posed the question (again): is the printed course catalog (prospectus) obsolete?
And are digital—and even personalized viewbooks/catalogs—the way forward as students get more sustainability savvy?
We explored what the future might hold for this key recruitment product.
---
Do you have some ideas for topics you'd like us to explore next year? We love hearing your feedback, so please do comment below or share your ideas with us on social media.