First impressions count, and for many potential applicants, that initial connection with a university is through its website, particularly with the pandemic placing even greater responsibility on all things digital to deliver experiences.
So, it's not surprising that institutions have been upping their online game this year, creating even more informative but attention-grabbing digital destinations with standout features, user-centric functionality, and inventive marketing angles.
This week our team came together to tell us all about the exciting things they've spotted online over the last year, and we've compiled the best in this five-minute read.
Widgets, tools and features to support the prospective student visitor
Good design needs to captivate, but it also needs to enhance user journeys and make navigation easy for the time-conscious visitor. With that in mind, many websites are developing new add-ons to give students the answers they need as quickly as possible.
For those struggling to decide between subject areas, Anne Arundell Community College, for example, has introduced a shopping cart-style course comparison tool. Lining up to three courses next to each other, users can compare – at a glance – entry requirements, costs, teaching methods and modules.
Knowing that funding and costs are at the forefront of many students' minds, Baylor University's net price calculator is refreshingly easy to use, while Purdue University allows users – whether applicant, current student or alumni – to customize the homepage to filter out irrelevant content and see what's important to them.
Other universities, meanwhile, are employing chat box functions as part of general information inquiries – such as the Lamar University and the University of Connecticut, as well as connecting potential applicants with current students and staff.
The navigation toolbar has had a refresh on the York St John University website, which is pinned to the right-hand side of the page for ease of search and exploration.
Features like the application status check search bar for applicants at Northeastern University also appeal.
And, in line with an increasing shift towards decluttering sites of pop-ups, Middlesex University London is using a less intrusive cookie policy approach to help students explore the site without interruption.
Bringing innovation to the virtual university experience
With in-person open days still off the cards or limited in form, many universities are investing heavily in virtual tours, and interfaces giving students a peek behind campus doors – and some are doing this in impressive ways.
The University of Manchester has a dedicated and attractive site for anything from 360-degree accommodation tours, content streaming and faculty introductions to bookable talks and live chats with current students.
Cornell University has developed CornellCast, a feature that is packed with video content about student life as well as research developments and even wellbeing, which users can select and add to their own bespoke playlists.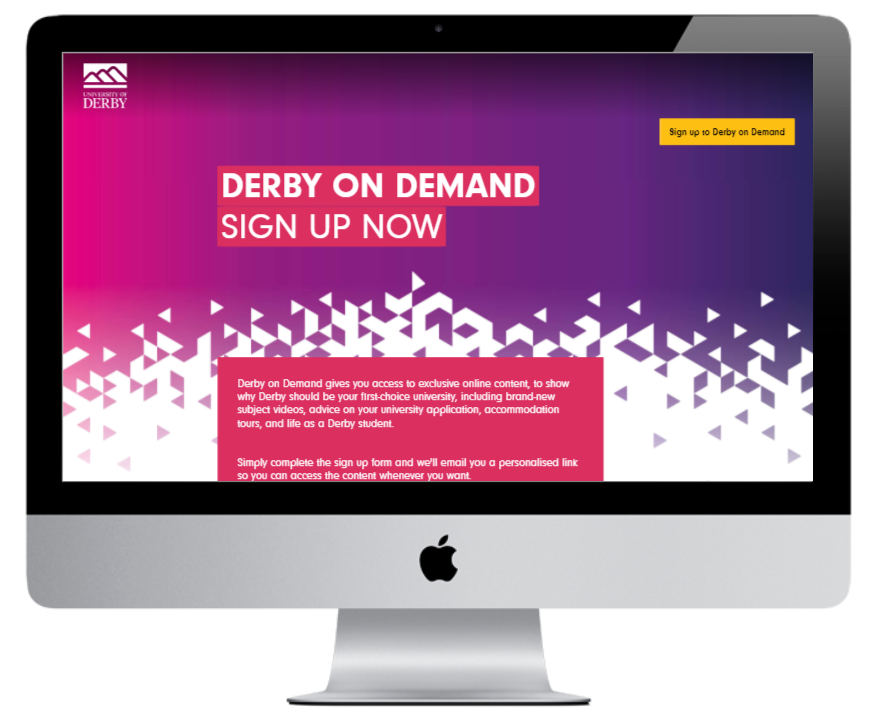 The University of Derby is another example of an institution really selling the holistic university experience, with a website and dedicated components. It's called Derby on Demand and is loaded with options to find out more about the institution as well as the city it sits within.
Similarly, the University of Northumbria has an immersive virtual platform called NU World, where prospective students can book virtual events, explore campus, join live panels connecting students and staff, and utilize quirky features such as a quiz to find out which accommodation is best suited to them.
Sydney University has developed an impressively intuitive 360-degree tour function of its campus on its website, with users given the power to navigate and click to find out more about the different areas and faculties.
The new University of Birmingham Dubai isn't even waiting until its opening to show students around. It's documenting the building process and the cutting-edge technology being developed there with drone footage, virtual CGI tours, and interviews with students and partners about what there is to look forward to when the new campus opens.
Immersive design that captures the imagination across contexts
The University of East Anglia is selling itself through its environmental research Thinking Without Borders, with a stunning homepage giving visitors a full narrative experience. It takes users on a journey from space to the seabed, through the university's achievements in space, on land and in the depths of the ocean. Onward journeys to further creative content adds to the experience.
It's all about bold design for the University of the Creative Arts, too, with a giant impact full-screen menu that brings simplicity and imagery to the forefront.
Similarly, the University of Winchester is going for high-impact visuals, with an auto-play video on its homepage and onsite search interfaces to match the layouts of the different listings.
The London School of Economics and Political Science has opted for a fully-loaded homepage with an appealing grid design showcasing dynamic content. Yale University takes a similar info-packed approach, but with a nifty option to customize the view by topic or by shuffling the content for a snapshot of life across the university.
Numbers, meanwhile, are doing the talking on the University of Texas at Austin homepage alongside striking video and imagery, with figure tally animations for various headline successes on research and societal impact popping up as you scroll.
Using experiential and content marketing to engage with prospective students
Manchester University is grabbing attention with its slickly marketed Stellify Awards program selling the whole university experience and the potential of job prospects beyond graduation.
With its dictionary definition 'to change or be changed into a star', Stellify promises to help students make their mark on the world outside of the classroom with a range of extracurricular activities. There's supporting content about students, including a campaign to end period poverty and another who volunteered for a befriending scheme.
Cambridge University is also using video content to up its appeal to future recruits through its Student Perspectives video series, while Loughborough University's online magazine Volume gives readers a behind-the-scenes insight into its people, projects, and successes in carefully curated image-led content.
Emphasizing the international reach of the institution
Locations are made part of the brand for Nottingham University, which now has campuses in the UK, China and Malaysia. With seas being no barrier to study, the institution is tapping into this global mindset and promoting prospects with an international approach.
Similarly, New York University, which has a campus in its namesake city as well as Shanghai and Abu Dhabi is focussing on the international aspect – with easy switching between the benefits and draws of each location on its admissions homepage
Showcasing college work to impress future students
One measure of a university's success is through its output, including its graduates. Many institutions have been focussing on this to inspire future students. On this theme, we found two great examples.
University of the Arts London has created a graduate showcase to display work in a series of galleries, while William and Mary University alumni's career successes feature heavily on its homepage, with a photo grid enabling the user to click between the profiles of each and to understand more about how the institution has enabled people to achieve great things. Both
The trends taking university websites to the next level
We all know that University websites are an increasingly competitive component of the recruitment process across the world, with Covid-19 accelerating the need for institutions to offer even more visually led content and functionality online.
And discerning future students are only set to benefit from universities continuing to focus on improving user experiences going forward.
Those that don't may well risk negatively impacting application interest, especially when students looking for remote or hybrid study options will want to feel that virtual connection to a university from the outset.
What we've seen from this round-up is that the sector is bursting with innovation. Thanks to everyone who contributed and the features you've brought to our attention.
What would you like to see more of on higher ed websites in the future? And have you plans for something new and innovative we haven't included in this round-up? We can't wait to see what you're going to create in the next 12 months.