Students missing university life recreate campuses in Minecraft
With the coronavirus forcing universities to temporarily close and adapt to hybrid learning solutions, some creative students have been missing their campus so much they've recreated it online in Minecraft.
The results are impressively realistic and another great example of collaboration and creativity in the face of the ongoing pandemic.
Minecraft allows multiple individuals to collaborate on architecture and urban design and makes 1:1 scale replicas within the online environment.
And just like real life, the process of designing a campus network and buildings requires a human connection to eventually occur within it. So once the final bricks are in place, students are able to fill these spaces with events that to an extent mirror the reality of the physical campus.
Many hands make light work at the University of Pennsylvania
Understandably, some students feel that graduation has been turned into a forgettable digital event, with the frequency of Zoom and FaceTime calls in our daily lives making these formats feel somewhat less special.
Some students at the University of Pennsylvania, therefore, were keen to avoid the mainstream options and responded quickly to the closure of their campus. After hearing that their college commencement would be held online they quickly thought of an alternative to platforms like Zoom. Instead, students could have a 'Hey Day' and graduation experience inside Minecraft.
The Sun sets on College Hall and the Fisher Fine Arts Library, with Irvine in the background.
Their aim was to have a complete campus environment ready for graduating seniors to walk around now that Covid-19 had blocked the UPenn traditions and ceremonies for those graduating this year.
Students began to create dorms, food trucks, and local sculptures online to build up the campus environment. Makarios Chung, an early builder on the project, even measured buildings' dimensions and street positions constantly to ensure their scale was as true to the original as possible. There are now a few hundred college students involved in rebuilding their campus virtually.
The result is Penncraft, an environment that's impressive both in its scale and realism, and one that can serve many uses and connect people online in a different forum for years to come.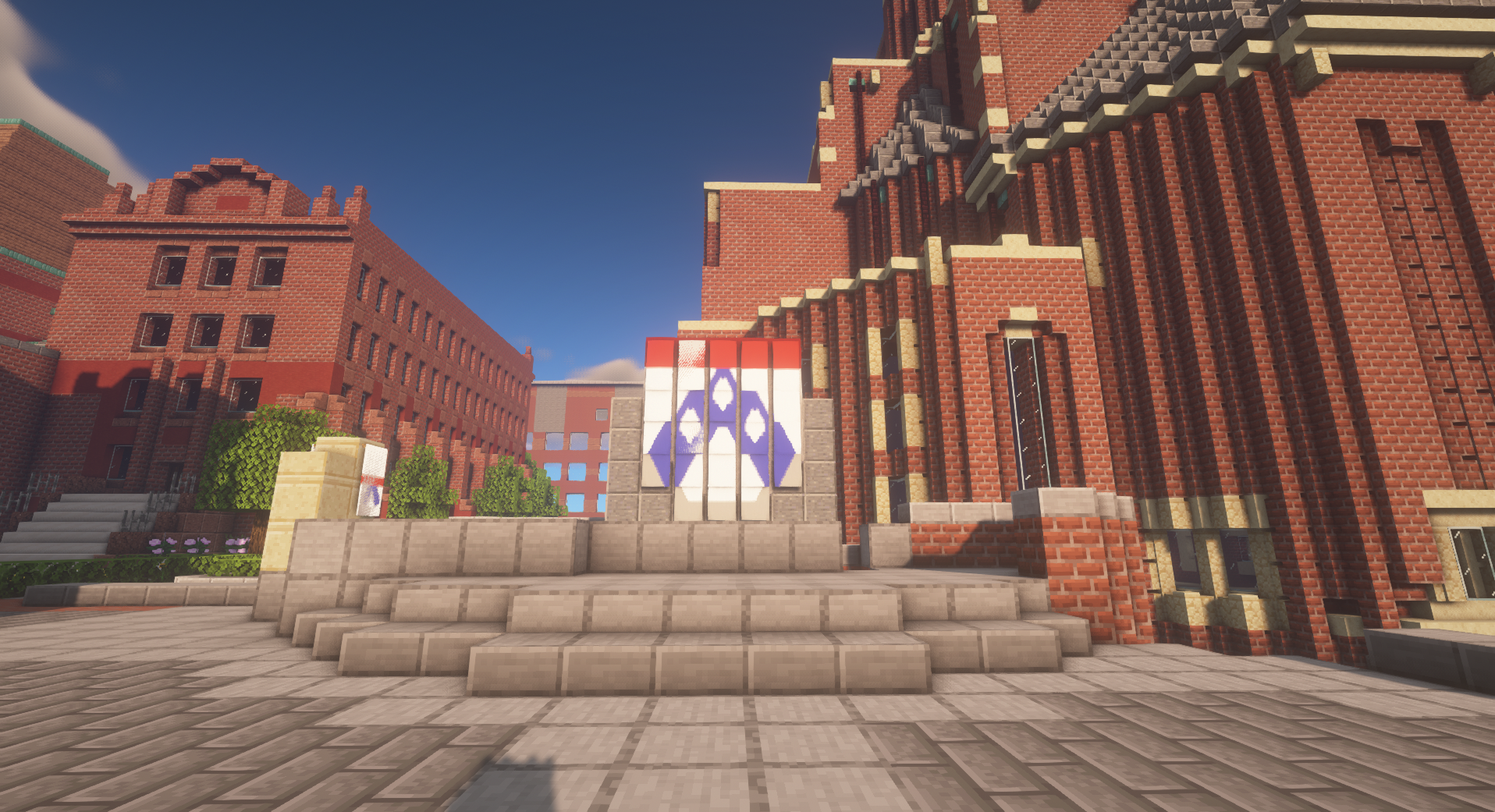 The Penn Crest shines proudly in the Perelman Quadrangle.
A campus across the virtual pond
Meanwhile, in the UK, students from The University of East Anglia, have also been busy creating an online campus.
Sophie Johnston kick-started the initiative with her three housemates after missing the social aspect of the university. The Minecraft campus project has helped to keep them in contact with each other but also enabled them to meet people they might not have met in real life, which has been good from a wellbeing perspective during the lockdown.
The four students operate as admins for the Minecraft campus, and have distinct roles, with two responsible for building structures, another answering player questions via text chats and voice calls, and another responsible for troubleshooting.
Students recreate UEA campus on Minecraft
Overall, it sounds like a great collaborative effort, with other students, staff, and alumni also involved in providing photos of campus buildings and helping with the build.
They're not alone
As soon as large gatherings were banned, students started brainstorming other ways to get together and to connect.
The Minecraft campus trend has really taken off in response to the pandemic, along with an ever-expanding list of creative ways students are using these virtual environments.
At MIT, for instance, there is a very strong dorm culture and students typically live with the same group of students all four years and form a community there. In response to the pandemic, some students have painstakingly recreated the iconic Cambridge Massachusetts campus on Minecraft and also added interiors and features to their dorms to make them feel like home. Some dorms are considering hosting virtual events in Minecraft and they've already hosted graduation ceremonies.
The new online paradigm
We've picked out a few great examples but many other campuses have also been re-created in Minecraft, including Stanford University, Boston University, Brown University, UC Irvine, University of Washington, Randolph College, and the University of Vermont. The trend sets to continue and it's great for institutions to see students create such a great online community in an environment that's true to the original.

Online learners have strong headwinds working against them in terms of feeling fully part of a campus community, but these are unusual circumstances, and most students will now be experiencing either entirely online or hybrid online/in-person university experiences for a period of time.

We know from our conversations with institutions that everyone is working hard to create education and collaborative experiences that really engage students. The disrupted spring term has offered many lessons to university leaders trying to plan for the new academic year. But one unheralded take-away has been the powerful role that incidental and impromptu interactions play in the university experience - and how hard it is to replace them.

Some institutions will get some way to re-creating them online. And while you can't mimic the full experience of university life, it's refreshing to see students respond proactively and positively to these challenges.

Tagged:

Minecraft

,

COVID19

,

Coronavirus

Leave a comment