How to continuously improve your university website between site re-designs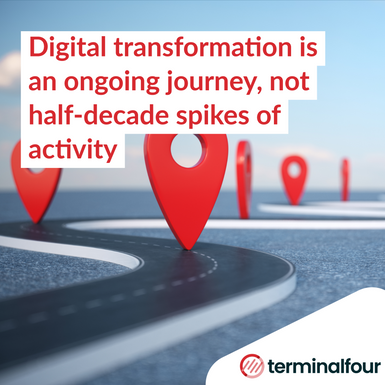 The average time between university website redesigns is five years. In digital terms, this is a lifetime.
So how can you improve your institution's website between the major development cycles such as a site redesign or moving to a new platform?
Continuous website transformation provides some of the answers and enables you to keep your website fresh and ahead of your competitors.
Here we set out the basic principles you can apply and areas to prioritize to ensure your website remains cutting edge.
Setting objectives, reviewing analytics and establishing priorities
You should start by identifying your goals and objectives for the website for the upcoming academic year as priorities and tasks will naturally emerge from this.
Next, it's important to gather relevant data. You can evaluate the website by reviewing data relating to user behavior, internal keyword searches and form submissions.
For instance, which important user journeys could be further optimized? What do various scenarios feel like on mobile devices? Where do site visitors drop off and what deadends could be eliminated?
Tools such as HotJar, Formisimo, Moz, Clicktale and of course Google Analytics come into play here not just in providing trend data but also by providing real-time user behavior examples for you to review.
The outcome from this activity should be a granular set of findings that can lead you on to a set of actionable priorities that can be broken down into tasks that can be allocated out both internally and with external partners and scheduled in as programs of work.
Website improvements that are guaranteed to make an impact
Too often website developments get bogged down by endless debate. It seems to take forever to make any progress. There are many stakeholders, lots of opinions, and policies or processes that can be detrimental to the final result.
So here we've outlined five irrefutably impactful changes you can make to your university website to transform the user experience.
#1 Search
Designing and optimizing your search functionality can have a huge effect on the user experience of your website.
Search gives prospective students (and of course other site visitors) more control and lets them assert independence from websites' attempts to direct and funnel their user journeys.
Capitalizing on search also makes good business sense. Students who visit your site and utilize the search functionality exhibit more intent, and in the case of recruitment, are more likely to convert than their non-searching counterparts.
Our search partner, Funnelback, also found that universities switching from a simple search experience to a modern sophisticated implementation saw a 48% reduction in search exits, and the time spent on site increased by 149%.
Implementing a search project can have a huge impact on your website and need not rely on the introduction of a site redesign or re-platforming effort.
#2 Website navigation
University websites are typically large, decentralized and complex so any measures to improve visitors' access to relevant information is welcome.
Consider also that 79% of students remove a university from their list of considered institutions if they can't find the information they are looking for. With the navigation on sites being one of the primary means of finding content it, therefore, makes sense to specifically focus on a project to optimize it.
Potential changes include simplifying the layout, bringing in a more logical hierarchy, introducing new navigation devices such as audience selections, improving the performance, enhancing the way the navigation presents itself on smartphones and tablets, and improving the routes into program pages.
#3 Landing pages and course content
Changes to your website are most important for your heaviest trafficked pages and pathways.
Our partner, Funnelback, advocates the use of an on-site search to identify the areas of the university website that are most visited and most important from a user perspective.
By reviewing the top 50 or so search queries from your university search results you can focus on what people are looking for and the pathways they're taking to get there.
This user-centered approach to prioritizing the areas of the site to enhance makes a lot of sense and can focus minds by using real data.
Institutions are continually reviewing and upping their game in terms of the quality of content. Content that has personality, resonates with prospects and provides quick access to all the relevant information.
Naturally, course pages are worth specifically focusing on from a design, functionality and content perspective. Drilling through scores of university course pages can be hard work for students and the course pages that seem to work best are the simplest.
#4 Forms and data capture
Institutions experience thousands of abandoned form submissions each year. The good news is that there are many things you can do to improve the design and user experience to maximize these data capture opportunities.
They include seemingly small details such as providing explanatory information alongside form fields, using logical sequencing or invoking the correct keyboard on mobile devices.
Subtle changes to a form can make a world of difference and can be what distinguishes a highly converting form from one that gets abandoned.
#5 On-page optimization and SEO measures
Over the past five years, there has been a constant upheaval in Google's search ranking algorithms and universities need to avoid being behind the curve to avoid losing their search visibility to education competitors and other external sites. In some cases, despite being branded, trusted, authoritative domains, institutions are being outranked by aggregate degree guides and comparison sites.
There are some major areas where universities can target their SEO efforts. Universities should make sure their data is showing up correctly in Google's education search feature which includes a snippet with information about admissions, costs, student life, and popular programs.
Universities need to think about digital transformation as an ongoing journey rather than half-decade spikes of activity
Rather than starting from scratch every five years or more, your team's mindset should be to think of the website as a project that never truly ends.

You can observe how real people interact with your site over this time. You can see what they like and what they don't. You can watch whether calls to action are compelling or not and whether prospective students are converting. Then, based on what you learn, you can adjust and improve the website through things like A/B testing.

This way you'll find the impactful changes and new features and design changes that will be influential for your users over the long term.

Stop aiming for perfection and start designing for better. This article is your starting point for committing to a cycle of continuous iterative website development.

Tagged:

Search

,

SEO

,

Re-design

Leave a comment