In a year like no other, universities worldwide have had to turn to digital innovation to function – from moving classes online to recruiting new students with virtual open days.
This year's Heist Awards in the UK, run by Havas Education, which are globally renowned by higher education marketing professionals, celebrate those at the vanguard of bettering student experience and recruitment in these unprecedented times.
Now in its 31st year, the award winners will be announced – in true pandemic style – at a virtial awards ceremony on Thursday, 15 July 2021.
In the meantime, we take a look at some of the finalists and a glimpse back at some of last year's winners, many of whom are Terminalfour clients….
Digital content – who's leading the way?
For the second year running, Swansea University is shortlisted in the best use of content, social or digital category for its engaging brand communication.
Last year, it walked away with a highly commended award for its Exploring Global Problems podcast series, which delved into how the university's groundbreaking research was helping to tackle a range of global challenges.
This year, the judges have been impressed by its slick student recruitment marketing campaign Come Find Space, selling an all-round university lifestyle package tapping into a new-found focus on the benefits of the great outdoors.
The other 13 nominees include social campaigns from the University of Salford and Trinity Laban Conservatoire of Music and Dance, as well as Coventry University's virtual degree show celebrating work from graduates and the University of Derby's Derby on Demand subscription service delivering on-demand digital content such as accommodation tours to prospective students.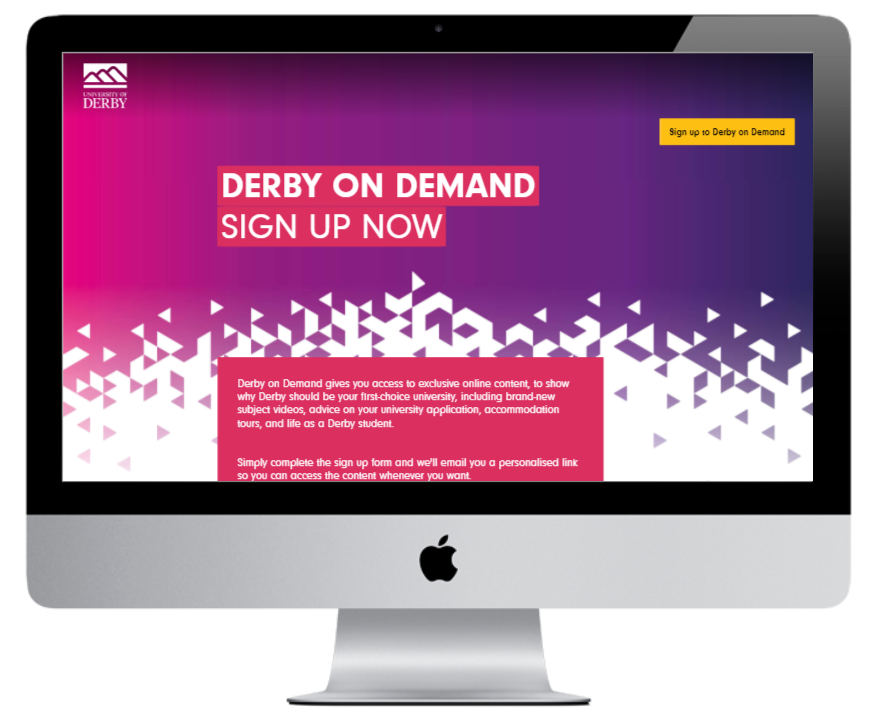 Last year's gold award winner in this category was the University of Glasgow, lauded for high-impact storytelling content in the Empowering Young Scientists mini-documentary about a student's mission to tackle Africa's developmental challenges by training students across the continent. It impressed the judges for high-quality content which "capitalized magnificently" on a "gift of a story".
Who's leading the way in website design?
Arts University Bournemouth's eye-catching and intuitive block design featuring sliding imagery and video wins it a nomination, while Plymouth Marjon University and Staffordshire University websites find themselves on the shortlist with a focus on on-site search and clear navigation.
The Plymouth Marjon University website is especially impressive, as it very successfully connects the institution with the local area's environment, a unique selling point.
Leeds Trinity University is hot on its heels for the coveted award with another striking website alongside eye-catching design elements, while the University of Law places video center stage.
Meanwhile, the wow factor goes to the University of East Anglia's leftfield creative, which takes users on a journey from space to seabed with an intergalactic interface giving way to mountain terrain and the depths of the ocean as you scroll. It's all to plug the institution's environmental research Thinking Without Borders as it's unique selling point, with supporting creative showcased.
Last year's gold award winner in this field was York St John University, which was praised for designing a website on a tight budget that was well integrated with the overall branding, easy to navigate and enhanced user journeys. Relatable and engaging content interlaced with eye-grabbing facts also won it points.
It was closely followed by silver award winner Swansea University, which was built on a unique pod component system and marked a step-change in usability, content, digital design and structure.
The University of Wolverhampton secured the bronze award in 2020 in this category with a website praised by judges for giving a strong first impression and the student-centric approach to the redesign with integrated virtual event and tour booking.
The grand tour – who did virtual open days and campus tours best?
For obvious reasons, all nominees for the best open day are virtual events. Swansea and Derby Universities get another nod in this hotly contested category, alongside Queen's University Belfast and the Universities of Hartpury, Leeds Beckett, Loughborough, Ulster, East Anglia, Portsmouth, Reading, Sunderland and Surrey.
Given that most prospective students will be continuing to visit universities virtually this year, and physical trips could remain scarce, institutions will be looking to these leaders to see what innovative digital marketing techniques are needed to stand out from the crowd. And future international students, in many years to come, look set to reap the rewards of this new shift in focus on digital experiences to transport them to campuses.
The full list of categories for this year's Heist Awards are:
Best undergraduate student recruitment campaign
Best postgraduate student recruitment campaign
Best international student recruitment campaign
Best use of content, social or digital
Best brand/reputation campaign
Best open day experience
Best widening participation initiative
Best use of data and insight
Best community/business engagement campaign or initiative
Best alumni initiative
Best Student engagement campaign or initiative
Best undergraduate prospectus
Best postgraduate or specialist institution prospectus
Best low budget initiative (under £15K)
Best website
Best PR/communications campaign or initiative
Rising star award
Marketing team of the year
You can see all of the nominees here. We can't wait to see you at the Awards!
What new innovations or campaigns have caught your eye this year? We'd love to hear.