A Student's Travel Story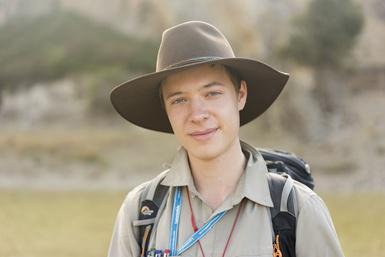 "The world is a book and those who do not travel only read a page", Saint Augustine.
We're always looking for inspiration when it comes to our blog and this week's comes from a Dutch student named Jesse Zondervan. Jesse is the quintessential European student in many ways; spending his early 20's looking for an education whilst also chasing adventure. He's studying for a degree in Geology at one of the world's top universities, Imperial College London, which included an exchange year at Australian National University (ANU).
Jesse documented some of his experiences in the student blog section of ANU's website and this is the topic of today's blog post.
Jesse's story struck a chord with us for many reasons. In the first instance, we're incredibly jealous (see some of the pictures on his blog posts and you will be too). But more importantly, as a company that works with hundreds of universities and colleges around the world, Jesse's blog posts emphasizes the importance and impact of student generated content.
The student blog section on ANU's website should be called their student recruitment page. In his posts Jesse outlines key milestones in his year abroad. Such as signing up for the 'Set4ANU program' which "linked me to an ANU student who'll help me settle into live in Canberra and study at ANU". Itself a promotion for the program and he links off to the SET4ANU site.
He continues with posts about going ice-skating with his lecturer:
"I'm quite surprised to find an ice rink in Australia. Apparently it's open the whole year round too, something that doesn't even happen in the Dutch summer. I'm driving there in the BMW of one of my professors."
He outlines his field trips:
‌‌
"After a night-time journey in the little research vessel with Russell, the One Tree Island manager and skipper, we cross into the lagoon and see the island appear in the horizon. The research station consists of a few buildings, most of them wooden with window panels with fly nets."
‌
"This journey was special, as there are no tourists allowed on One Tree. It was one of the best experiences I've had in Australia and I hope I'll be back to meet up with the turtles."

Jesse's story isn't unique. Lots of students get the opportunity to travel to and study in another country as part of their undergraduate studies. What is unique (and shouldn't be) is how the university has supported and capitalized on Jesse's journey by promoting and encouraging him to tell his story online. This is priceless content. It highlights the softer side of the university. The welcome from fellow students, and the attention from lecturers fully aware that these students are away from family and friends.

Read Jesse's posts here.

@JesseZondervan

If you've a story you want to share, please contact us.

Tagged:

Travel

,

Student Blog

Leave a comment