Students are increasingly exploring beyond pure academics when making decisions about higher education.
Universities and colleges have an opportunity to demonstrate the importance of their students' overall well-being by actively promoting their campus (or off-campus) wellness resources to increase conversions.
New research suggests that students nowadays are under increased stress, often related to academic pressures, life transitions, social/relationship challenges, isolation, and finances. This situation has worsened since the pandemic.
By fostering a culture and atmosphere of complete student well-being—physically, socially, emotionally, and psychologically—colleges and universities have an opportunity to show students that they are willing and equipped to help them succeed not only academically but in life.
And as more students and parents are interested in student well-being, universities and colleges can do more to market their wellness services and programs effectively.
Through collaboration with health professionals and the student body, these resources need to be actively promoted through:
regular social media campaigns by the school
student micro-influencers
open dialog
resource kits for new students
and open house events.
1. Take a multidimensional approach to wellness
Wellness is a very broad term. It encompasses everything from pursuing an active lifestyle and maintaining a healthy diet to managing stress and tackling depression.
Since no one definition of wellness fits every student, the challenge for higher education institutions is developing a well-rounded set of resources and programs to cater to a wide range of student wellness needs.
Ohio State University's Student Wellness Center uses a multidimensional model. The school's "Ten Dimensions of Wellness" include several important aspects of student wellness: career, creative, digital, emotional, environmental, financial, intellectual, physical, social, and spiritual.
They integrate calendar events, maps, as well as a drop-down "I want to" menu for quick access to resources.
Ohio State University's Student Wellness Center landing page gives students quick access to information about its Ten Dimensions of Wellness, as well as upcoming wellness events.
2. Provide a central starting point
Choice is good. But students might be confused by all the wellness resources, events, and programs their school has to offer.
This is especially true for freshmen unfamiliar with what's available or students experiencing some type of crisis (who might not be in the best frame of mind to dissect pages of information, no matter how well-presented).
So how does a university help students find the appropriate resources and prevent them from getting lost in a maze of options?
McGill University's Student Wellness Hub, focusing on awareness, prevention, and early intervention, set up its Access Advisors resource online specifically to help students navigate and access appropriate on- and off-campus wellness services (including nurses, doctors, lab services, therapy groups, and more).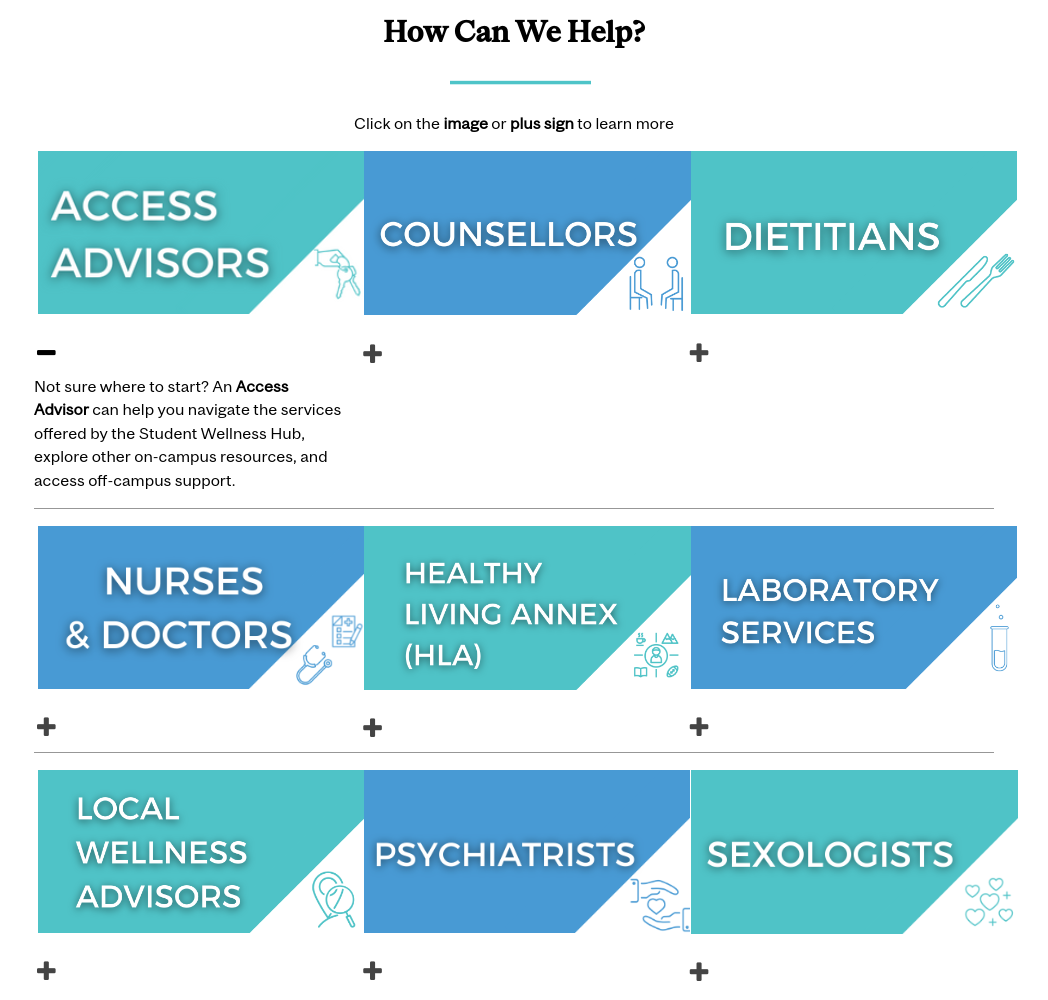 As a central digital resource, McGill University's Access Advisors gives students a central point of contact for all the school's wellness resources, programs, and workshops.
3. Make wellness resources easy to find
It defeats the purpose if the process of seeking help ends up being another source of stress, so don't place any obstacle between the student and the resource:
Create an easy-to-remember university wellness subdomain.
Give your program's page or subsite prominence on the university's main website; and actively promote its resources, services, and programs.
Wellness, contact, and registration information must be clear, concise, and easily accessible.
Use empathetic, non-judgmental language; avoid clinical or overly-technical jargon.
Avoid convoluted processes for program registration or appointment scheduling.
Whenever possible, offer services both in-person and online.
McMaster University's Student Wellness Centre, for example, offers its "Marauder's Map", an interactive wellness resource that shows where (on-campus and surrounding areas) students support, places to keep physically active, quiet spots to relax, and much more.
McMaster University's Marauders Map lets students filter their search to easily locate resources corresponding to the school's "Five Ways to Wellness."
4. Normalize the discussion and remove the stigma
No discussion about student wellness is complete until the issue of mental health—especially anxiety, depression, and suicide—is tackled.
For the well-being and success of its students, universities can't be afraid to confront these difficult issues. Frank conversations and student narratives go a long way toward normalizing and putting a face to very complex topics.
The University of Texas at Austin understood the importance of this discussion when it led a statewide task force to create an educational video posted on YouTube on mental health and suicide prevention.
The video takes a bystander intervention approach, showing students having candid discussions about spotting early warning signs and intervening with fellow students who may be struggling with a mental health issue or contemplating suicide.

University of Texas at Austin's suicide prevention video is available to colleges and universities throughout Texas; it is also shown to all new UT students during orientation.
5. Share peer-based wellness narratives
While it's always great to have professional advice from healthcare and subject matter experts (such as doctors and nurses, counselors and psychiatrists, financial planners, and fitness gurus), students relate with other students and their experiences.
Orientation organizers at Northwestern University, for instance, used student actors to read the narratives of alumni describing mental health challenges and how they sought help to manage or overcome their issues.
Based primarily on student feedback, the university shifted its focus from professional healthcare speakers to student testimonials and used YouTube to promote the resources.
This type of peer-based storytelling helped the student audience connect with difficult topics on a more personal and relatable level.
McMaster University's #ShareYourWay on YouTube gives students a platform to learn and reflect
on different "Ways to Wellness" from fellow students.
6. Encourage regular mental health checkups
Students may already workout in their campus gym or participate in organized sports to stay physically fit. But they should also be encouraged to monitor their mental health regularly.
Drexel University was one of the first U.S. colleges to install a mental-health kiosk on campus, placed in its high-traffic Recreation Center. The kiosk serves as a questionnaire: students are asked a series of brief questions that they can answer anonymously.
The digital touchscreen display is polarized for privacy, so only the person using the kiosk can see it.
Once the checkup is completed, students receive instant feedback on whether their symptoms warrant additional action and are presented with mental health resources and information.
Drexel University's mental-health kiosk, located in the school's Recreation Center, lets students get a "check-up from the neck up" to monitor their mental wellness.
7. Make it enjoyable
Hectic academic schedules may cause students to take their physical and mental health for granted until something just doesn't feel quite "right."
Although wellness compels us to confront some serious questions, that doesn't mean it can't be fun. In fact, the more students enjoy doing something, the more they're likely to make it a healthy habit.
Some universities, like Western University, Bellarmine University and University of Illinois Urbana-Champaign, for example, are taking advantage of TikTok hashtags (#campuswellness, #studentwellness, etc.) to promote their wellness resources to prospective and current students.
In addition to many other wellness resources, Harvard University's Center for Wellness and Health Promotion offers in-person and livestream classes and workshops for mindfulness and meditation, yoga and pilates, and even guided "midday pauses."
Harvard University's Center for Wellness and Health Promotion offers a slew of classes and workshops aimed at helping students relax and reconnect their mind and body.
Wellness is a journey, not a destination
University wellness centers should never be a set-it-up-and-forget-about-it resource. They need to evolve along with student needs. And as these resources, services, and programs are updated or added, so must the university's awareness campaigns.
---
Are you currently promoting your higher education wellness center online or on social media?
We'd love to hear about it in the comments below or on our social media channels.