3 ways to improve your university website this summer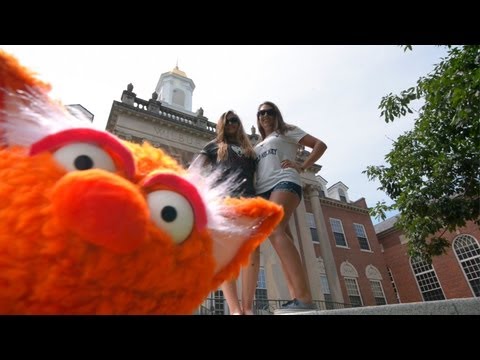 Every summer, with the stress of exam-time firmly behind them, students pack up their belongings and prepare to enjoy the long summer vacation that stretches endlessly before them. For those left behind in the campus ghost-town, the summer months can be the busiest of the year and there might not seem to be a whole lot of extra time to take on a web project.

However, there are a couple of small projects you might consider taking on board which can have a really positive impact on your website's impact.

1. Make a homepage video
Video is one of the most effective ways of reaching students so if you don't already have a video on your home-page then you really should start dusting off your director's chair. Video increases engagement, visitor retention, gets people talking and above all, can be really fun and creative. Your video doesn't have to be polished and professional; in fact, some of the best videos we have loved lately have either been produced by students or quickly put together to reflect what life on campus is really like. Universities are a veritable hive of creativity and talent; why not tap into this? A promotional video that has been created by students for students is more likely to generate trust, interest and engagement among current and prospective students.
For instance, look at this incredibly charming video from University of Connecticut which uses puppets and succeeds in making hashtags memorable and fun.
2. Showcase your individuality through photography
This might seem like a long-term project but in fact a few minor changes can make your website really stand out. Updating the photos on your site is a project that with the right planning can be done in a relatively short space of time. Use existing professional photos of sporting events and exhibitions or hire a photographer to capture your campus in full summer bloom. Keeping website images seasonal and up-to-date is one way to make prospective students sit up and take notice.
3. Review your social media strategy
Figuring out what social platforms your target audience is using is vital in creating an online marketing strategy that works. While you are already likely to have a facebook and twitter account you might not be using them to their full potential. Also, consider creating profiles on content-sharing sites like Instagram or vine which are steadily growing in popularity. Yale University, for instance have over 16k followers on Instagram and use it to show their campus in the best light.
‌

Come up with a social media strategy including:


• How often you're going to post
• Who will manage the account
• What kind of content will you post (hint- it should be fun, interesting, timely, relevant and engaging)
• Remember everything you share is a representation of your brand so if you're unsure about posting something it's probably best to err on the side of caution
Social media can be a powerful ally when managed correctly so it's never a waste spending a little time creating a strategy that's unique, engaging and most importantly works for you.


There are so many manageable web projects that can be undertaken on a small budget in a short amount of time. If none of the above floats your boat, there's plenty of other summer house-keeping to consider such as removing unnecessary content or implementing an SEO campaign. The summer's your oyster, take advantage!

Tagged:

University website

,

Social media

,

Photography

,

Video

,

Yale University

,

Summer

Leave a comment